When I was 13 I'd slowly worked my way up the ranks and had earned the right to advance to the highest level at the dance studio I trained at.

I remember thinking how cool it was going to be to finally get to dance with the "big girls," as my sisters and I called them. They were the girls in high school, most of them 16 and 17.

I thought they were kind of scary. I felt shy, naive, and awkward but I didn't care. I worked my behind off. I wanted to be just as good as those girls- no...I wanted to be BETTER than those girls!
I remember watching those girls do a chair dance to Janet Jackson's "Black Cat." Hot. I wanted to be in that dance so bad!
I was moving from the team that my studio called "Rythmettes," to the team called "Rhythmline." Yeah, I thought I was pretty cool.
Anyway, I remember how excited I was on the first day of class when our teacher began to teach us the first few counts of our competitive jazz routine.
We were going to be dancing to "Twilight Zone" by 2 Unlimited. Everyone was psyched. I bet you remember the song:
Radical, right? I still remember some of the steps to the routine. They were uber cool at the time, but today they're beyond comical. Anyone remember the 'Running Man' or the 'Roger Rabbit?' Yeah. That was us. Haha.

Here's a pic of me in one of our costumes.

Go ahead and laugh. I have to laugh at myself when I think back to some of the stuff I wore. I mean this was back in the day when it was okay to wear your leotard over your bike shorts and we all wore bright blue eye shadow and red lipstick for performances. Yikes!

Want to see an even funnier pic?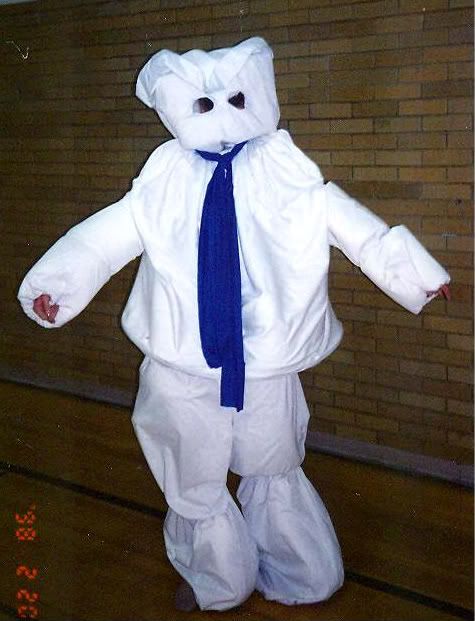 Can you guess who I am? I'm the Stay Puft Marshmallow Man from Ghostbusters. Yep.

I was in a production routine with a Ghostbusters theme. Four girls on my team danced the part of the Ghostbusters while the rest of the girls were dressed as ghosts.

I danced as a ghost for the first part of the routine and then I was the lucky girl that got to come out for the big finish in the Marshmallow Man costume. Boy was it hot in there!!

Anywho- My family didn't have a video camera until I was in college, so sadly I don't have many videos of me dancing. Maybe someday I'll share some videos of my little sisters dancing. They were much more talented than I was anyway!

So I hope you enjoyed flashing back with me! Maybe we'll do this every Friday. It'd be a fun way to jump start the weekend. What do you think?

xoxo-Kimberly