I wasn't able to get work off for the big V-Day but I did manage to get Friday off. So Andy and I decided to go to dinner at one of our favorite sushi restaurants - Imperial.
We got their early enough to beat the crowds. Sorry, no pictures of our sushi but the meal was fantastic! Sushi is so filling and we always get too full before we've had a chance to try everything we want to try. So we like to get out to Imperial as often as possible.
This was my fortune.
I was disappointed, but Andy thought it was hilarious, so he graciously traded with me. Haha.
After dinner we came home and settled in for some homework and study time. Sometimes Andy's engineering homework is confusing. Henry likes to help him decipher it.
"Now, let's see...Was it E=MC2 or.....?"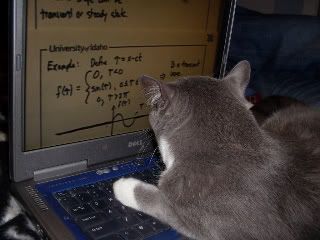 "Hey! I'm working here!"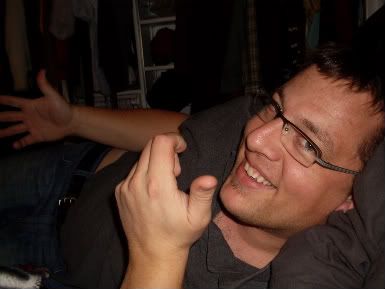 "What!? This stuff is cake!"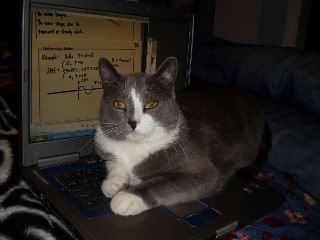 "You're gonna get tickled, Mister!"
"Meh. You guys are boring and it's time for my nap anyway."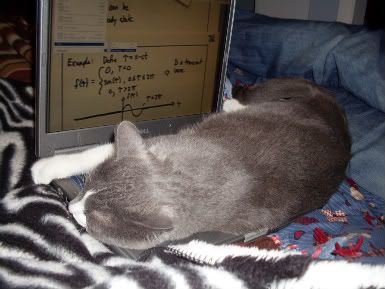 "Smell ya later!"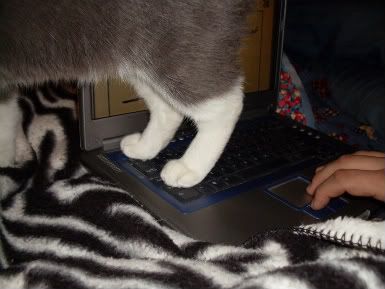 That little turd was on one this weekend. On Saturday I caught him rummaging around in my purse.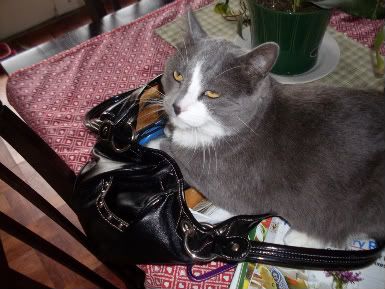 Before I took the picture, he had his head in there sniffing around. Later, I found incriminating teeth and claw marks on the new wallet that Andy had given me for Christmas. Little stinker could have just asked if he needed to borrow some money for his hot Valentine's date with the jingle kitty from next door!
Anyway...look at these cute Valentine's we each got in the mail from Andy's mom.
Mine was in a pink envelope and by far, the cutest. But I'm pretty sure that's just cause she likes me the best. :) Just Kidding!
On Sunday morning Andy made me a yummy breakfast before I had to jet off to work. It was eggs, sausage and cheese all rolled up into a breakfast burrito. Very delicious.
I was so sad that I had to spend the day at work but Andy had said I'd have a surprise waiting for me when I got home.
As luck would have it, we weren't very busy so I ended up being able to leave early. I got home around 4:30 just as Andy was about to leave to pick up his surprise for me.
He had planned to make me dinner! Not only that, but he was going to make my favorite- salmon!! I was quite impressed at his ambitious choice of recipes.
So we ended up going shopping for all the ingredients together and then cooking everything together which was a bonus because cooking together is one of our favorite things to do.
Check it out! We even took time to set the table all fancy.
Okay, my man is freaking amazing. Look what he did for me!!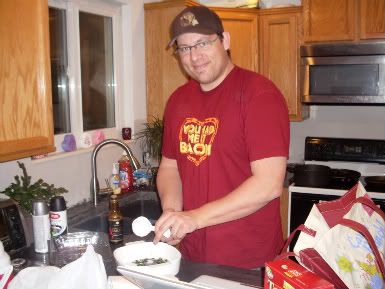 Asparagus dipped in olive oil and sprinkled with sea salt and pepper
Salmon marinading in sesame seed oil with ginger, garlic, and green onions
He cooked everything on the grill. The salmon is cooking on planks of cedar!! (I highly recommend this btw- the flavor was incredible.)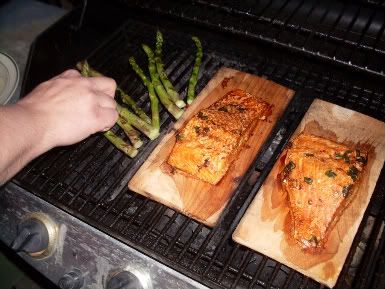 I made some teryaki rice and there you have it!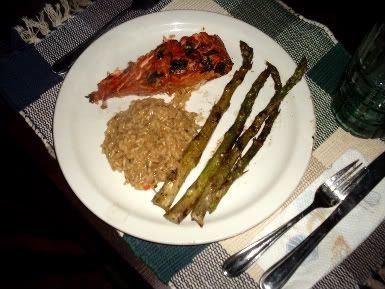 Absolutely delicious! And seriously, the best salmon I've ever tasted.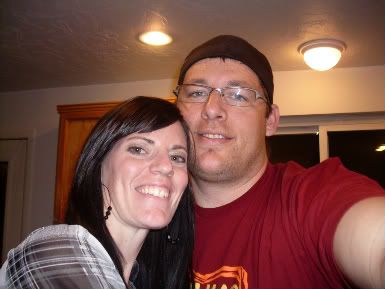 He also gave me a card that he'd written the sweetest message in. It got me a little teary eyed.
Then we settled down to watch Ghostbusters II on Hulu. I love it!
The End!
Hope you all had as great a Valentine's weekend as I did!