After I got two thumbs up from Corey and Andy had seconds, I thought I'd share with you our dinner from last night.
The main course was a new recipe that I thought looked good so I gave it a whirl.
Chicken Bundles
4 oz softened cream cheese
13oz can chicken
1 1/2 tsp Worchestershire sauce
1/4 tsp parsely
1 Tbs finely chopped onion or dried minced onion
2 cans Pillsbury Crescent Rolls, thawed
Combine all ingredients listed above minus the crescent rolls. Make sure you drain the chicken completely or your bundles will be soggy.
Open package of crescent rolls. DO NOT divide into triangles. Keep every 2 triangles together, forming 4 rectangles. Pinch the seams closed and pat each rectangle out to form a larger square.
Spoon some of the chicken mixture into the middle of each square of dough and fold the edges of the dough over to form a bundle. Repeat with the rest of the dough.
This doesn't have to be perfect. You can put as little or as much filling into each one as you want. You can also add veggies to your filling. Andy and I plan to try carrots, celery, or broccoli next time.
Spray cookie sheet with Pam and line your bundles up on the pan. Bake in the oven 375 degrees until golden brown. This takes about 15-2o minutes.
I made a package of chicken gravy and poured that into the bottom of my serving dish. Then I layed the bundles over the top. I also sprinkled the top of my bundles with some more parsley to make them pretty. They were delicious, easy, and fast!
PS- If you have left over filling you can eat it cold on two slices of bread and it makes a great chicken salad sandwich.
For dessert: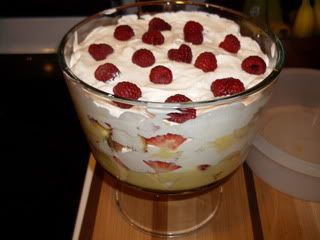 Fruit Trifle
1st layer- cubes of angel food cake
2nd layer- 1 package of prepared instant vanilla pudding
3rd layer- fruit (I used strawberries, bananas, and raspberries)
4th layer- thin layer of Cool Whip
Repeat all layers one more time and garnish with the remaining fruit. You don't have to have a trifle bowl to make this dessert but it's kind of a fun thing to have. I also make a chocolate lovers trifle that is layers of brownies, chocolate pudding, Cool Whip and something crunchy like toffee or crumbled Snickers bars. Yum!!
xoxo-

Kimberly