Just a heads up**** Photobucket is messing up a bunch of my pictures. I'm not sure why a bunch of them have disappeared from my blog. I'm working on the problem. Sorry!
The backsplash!! Finally!!
It only took us about six months to actually decide on the tile we wanted. But that's okay. This kitchen thing is teaching me patience. It's a hard lesson to learn.
We settled on 4x4 travertine and a border. The border is 1x1 tiles-both travertine and glass. I was originally drawn to the glass tile because I thought their caramel and black color would bring the 'caramel' cabinets together with the black countertops. And all would reside peacefully in my mind. :)
It actually does look quite smashing. At first we were worried because the grout we used made the travertine look flat. Luckily, the sealer gave it back it's dimension.
Progress:
Before and Afters: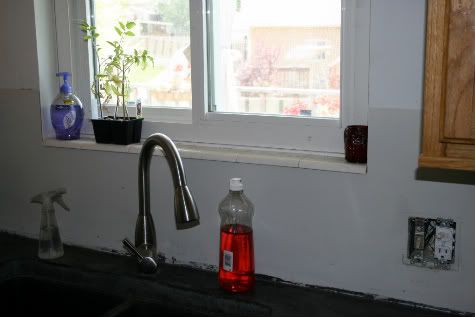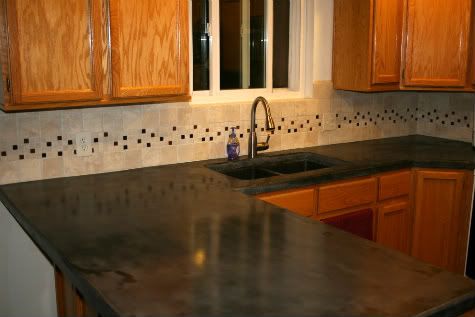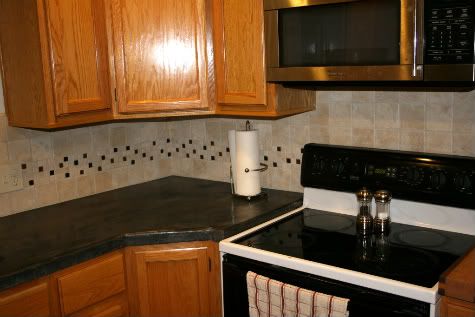 This next image is my favorite part of the whole kitchen.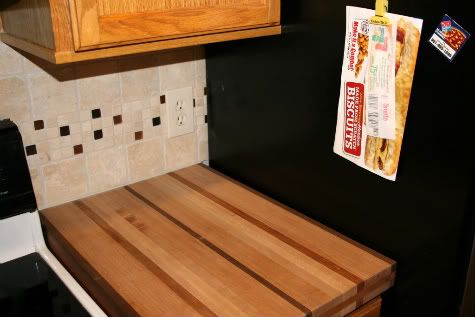 Isn't it loverly?!

Andy's dad made us that butcher's block and I am in love with it!

I get awfully cranky when anyone gets food on it. I know it's supposed to be a functional space in the kitchen, but I can't bring myself to prepare food over there for fear that I'll ruin it!
Anyway, I still have a little more to show you and then I'll give you a break from our kitchen for awhile ;)
xoxo-

Kimberly