It was Andy's birthday yesterday! I took him out for fondue to celebrate.

Andy had never had fondue before and he ended up loving it. We went to the Melting Pot and it was so much fun because your table has a heat plate in the middle of it where the waiter mixed the ingredients for your fondue right in front of you and the food was so good!

The first course was a cheese fondue with a mix of bread, veggies, and apples to dip. Then we had salad for the second course. The main course was a mix of filet mignon, duck, shrimp, steak, and chicken that you dip in a caribbean flavored brothe fondue and the dessert course was a platter of strawberries, cheesecake, marshmallows, rice krispy treats and brownies to dip in chocolate caramel fondue. Yum! We had so much fun trying all the different combinations!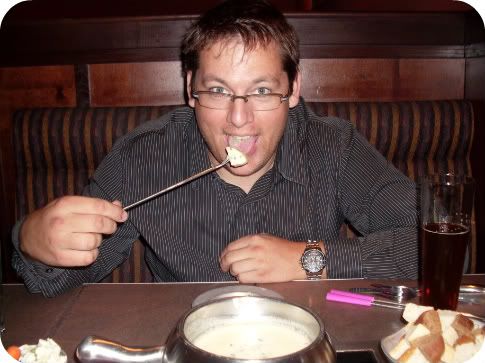 It was a fun weekend and I hope my man had a fabulous birthday!

xoxo-Kimberly